Because on all other nights we do not receive gifts on our bed and a choice of presents, we do not receive free and unlimited phone calls abroad, we do not eat extremely fancy and delicious hotel food, but on the 15 of Nissan 5774 – we did.
I don't remember much of the last two weeks, but I am pretty sure memory loss is normal for a soldier. Its just that, we do so much, everything kind of blurs together.
Things I did:
Practiced entering various firing positions while wearing a gas mask. (The muffled sound of my commander's voice from inside his gas mask, still makes me laugh and the muffled sound of my unit's responses still has me in awe at how quiet a yell can sound through a gas mask)
Practiced entering into various firing positions, rolling on the ground, crawling fast with the gun.
Ran the Kfir obstacle course a few times.
Did a full day of kitchen duty, still see dishes in my dreams.
Fortunately, I remember the fun stuff.
I spent the Passover Seder in a military resort called Givat Olga. It's a beautiful place near Hadera, and our host was the Chief of Staff of the Israel Defense Forces, Benny Gantz. Though I didn't see much of the Ramat Kal (Rosh HaMateh HaKlali – or Chief of Staff) I did eat lots of sweets, watch lots of movies, play lots of play station, eat lots of really expensive catered food, and talk to other lone soldiers like me at different parts of their service.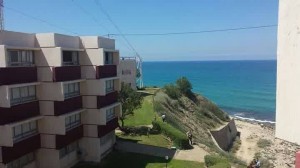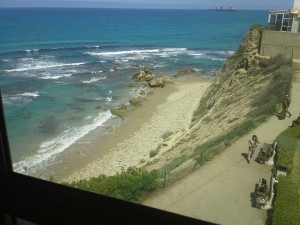 We received lots of gifts, every lone soldier there received either a sub-woofer or expensive beats head set. I chose the sub-woofer. During the Seder itself, there were several moments when the lead would ask everyone to turn to a specific page in their Hagadda (traditionally used at every Passover Seder) and whoever has the required mark wins a prize. People walked away having won things like Ipods!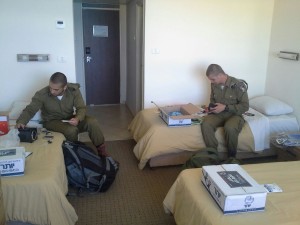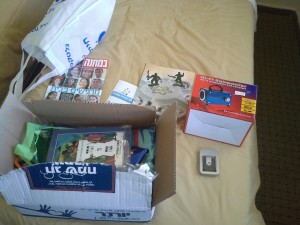 During a session with the Chief of Staff, a girl from Australia who serves as an Iron Dome operator (the Iron Dome is an anti-rocket missile system, responsible for preventing rockets and mortar from landing in Israel's cities, and has been extremely successful since it was put into operation) was called to the stage with him. He spoke with her a bit, she was obviously flustered about speaking casually with the highest ranking person in the Israeli army…
And that was exactly what the Chief of Staff wanted, because that way it would be easy to have her father, who flew in from Australia the night before with the help of the IDF and other organizations, to walk up right behind her and wait for the Chief of Staff to say "hey, turn around". She was so obviously distracted, when the right moment came, the Chief of Staff had her turn to see her father and she was nothing but tears from that point on.
We were all moved.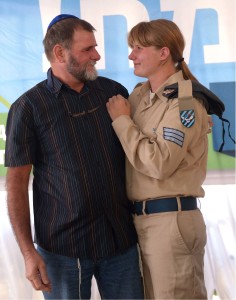 Then we went back to play station and free phone calls: